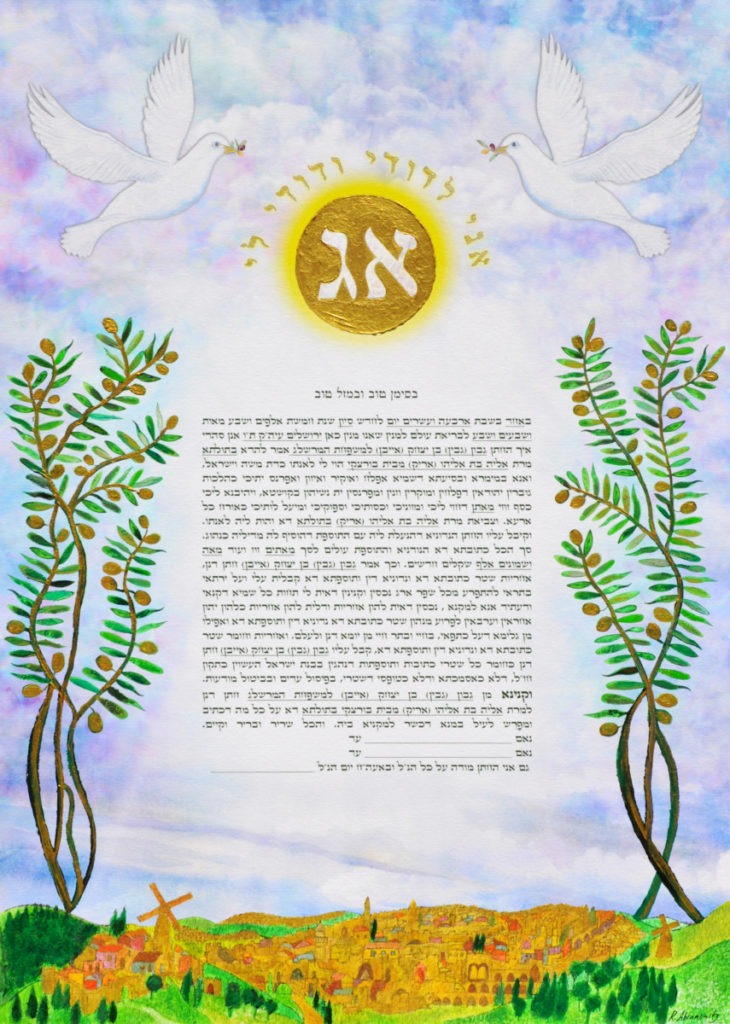 Blazing beyond  a glorious sun, rays of light radiate through the watercolour washed clouds and skyscape, streaming onto a glowing and glittering, golden Jerusalem (which in turn shines and shimmers with fire in the light of the sun).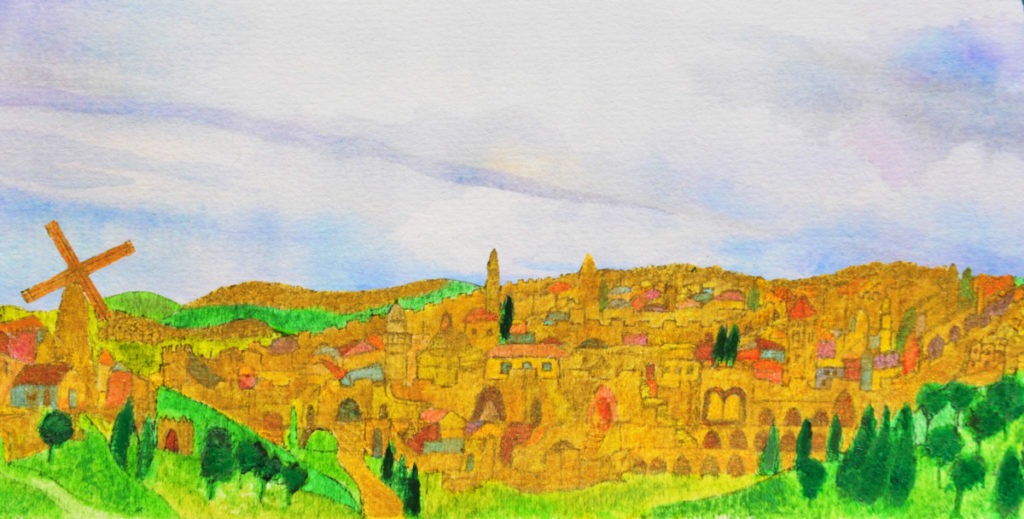 The old city of Jerusalem is painted in a gold base with colour accents and overlaid with a dazzling golden glaze. Jerusalem is contextualized emerging from the Judean hills that surround it, with textured emerald cypress and olive trees cascading down the mountains.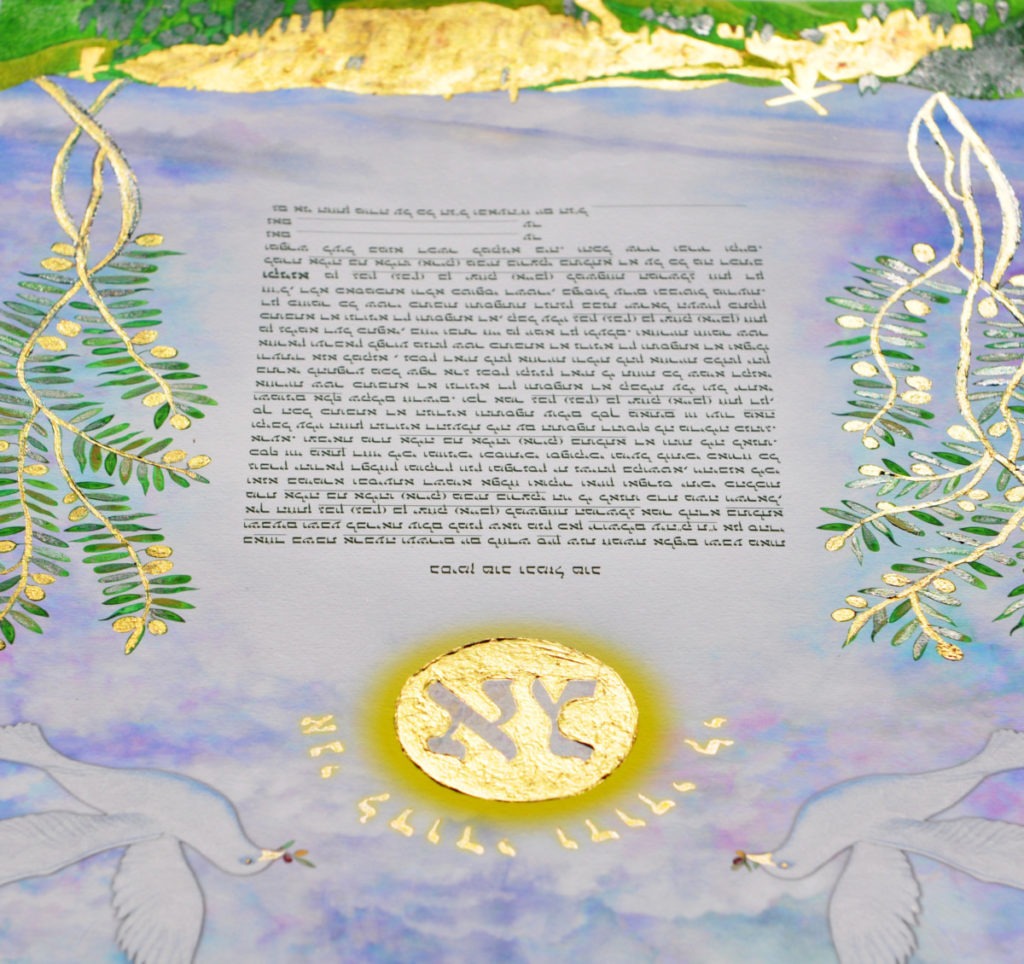 Jerusalem is a significant site and special source to fuel inspiration for the Ketubah design as it is both the homeland of the Jewish people and the destination where the couple for whom this Ketubah was painted married.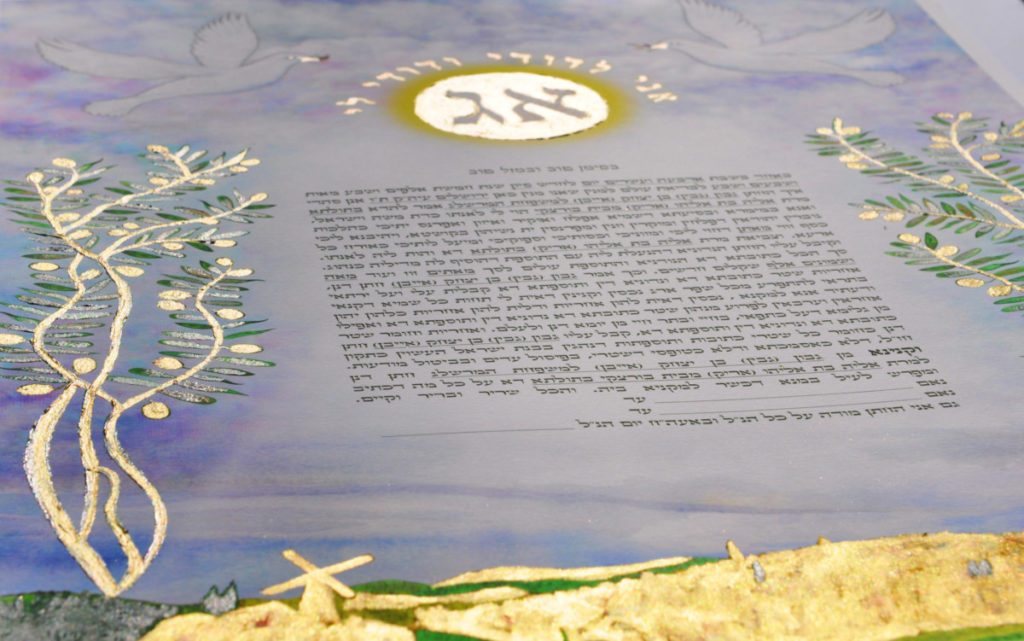 In this way their Ketubah will forever be a praise to the beauty and soul of where they got married, and in doing so the Ketubah is transformed into a meta-referential reflection both their marriage and wedding. Analogous to the archeology of layers comprising the rich and textured history of Jerusalem, so too was the Ketubah painted in an iterative process of layer upon layer, allowing the construction of the Ketubah-making to mirror the subject matter.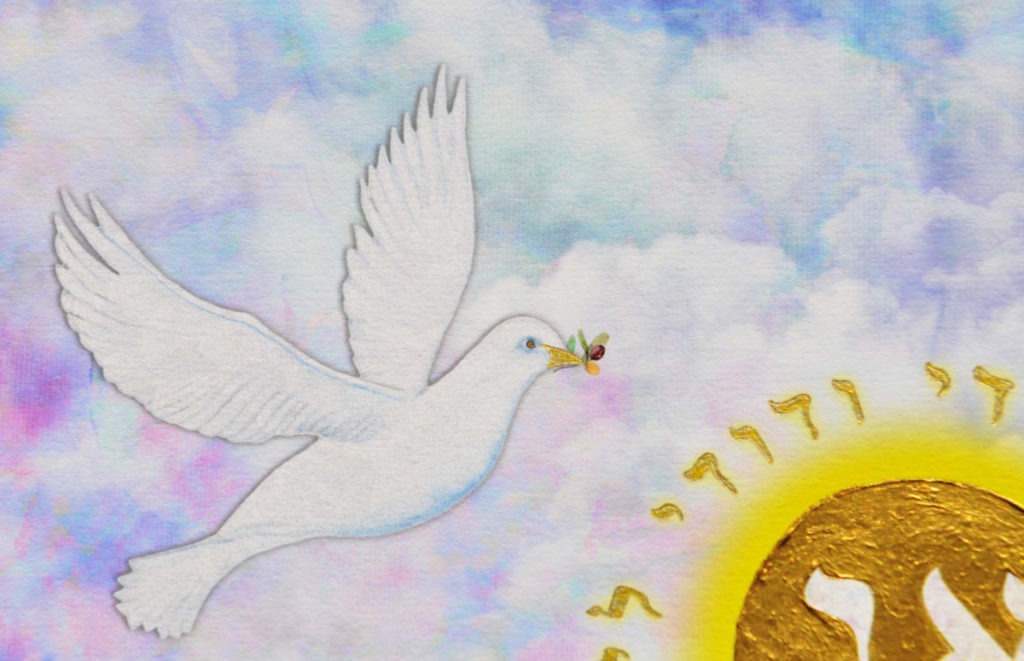 The two doves flying through the heavens towards eachother symbolise the union and coming together of these two destined souls. Lace material has been overlaid upon the doves to refer back to the bridal aesthetic and therefore establish another linkage between the Ketubah and the wedding.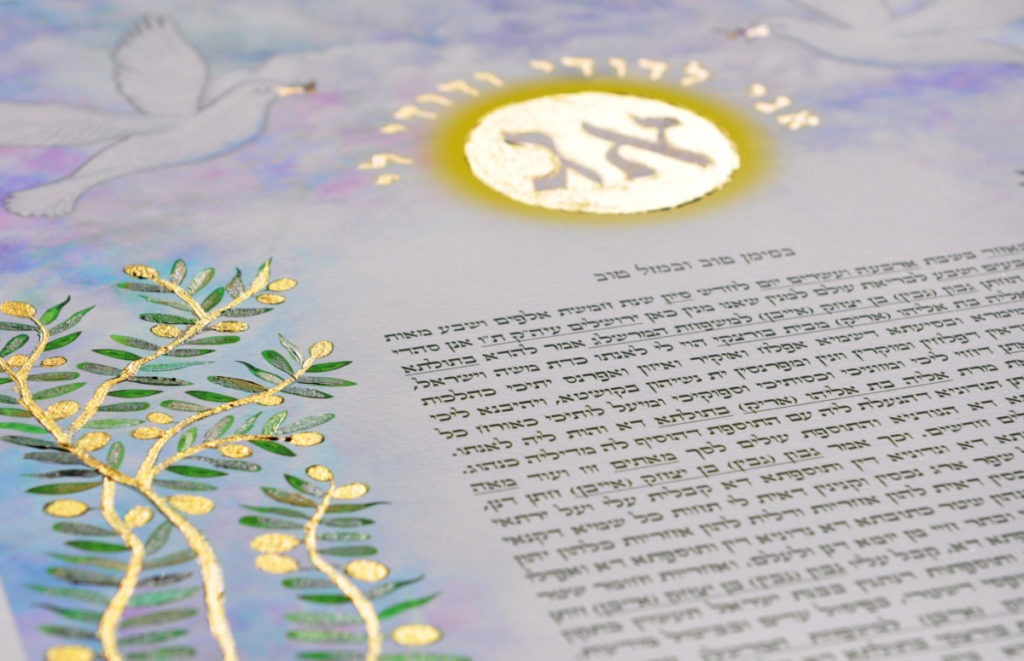 Drawing on the motifs of gold and olives that featured in the wedding material (the stationary, invitations and seating plan), olive branches border the text of the Ketubah and these elaborate unfurling vines symmetrically frame the composition to create balance and visual architecture.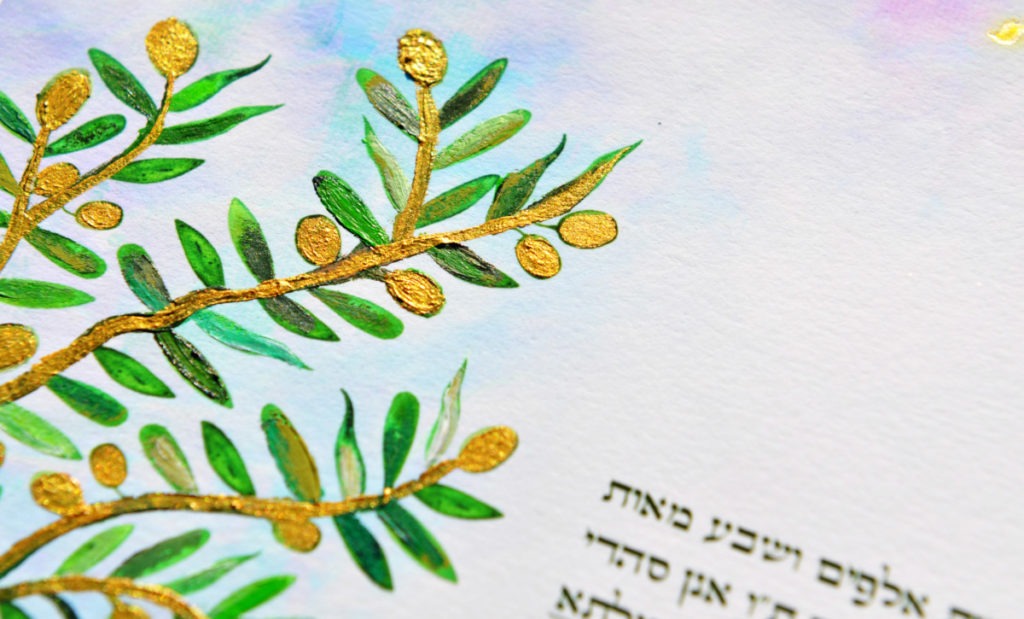 Families of greens proliferate across the leaves and olives, overlaid with a shimmering gold.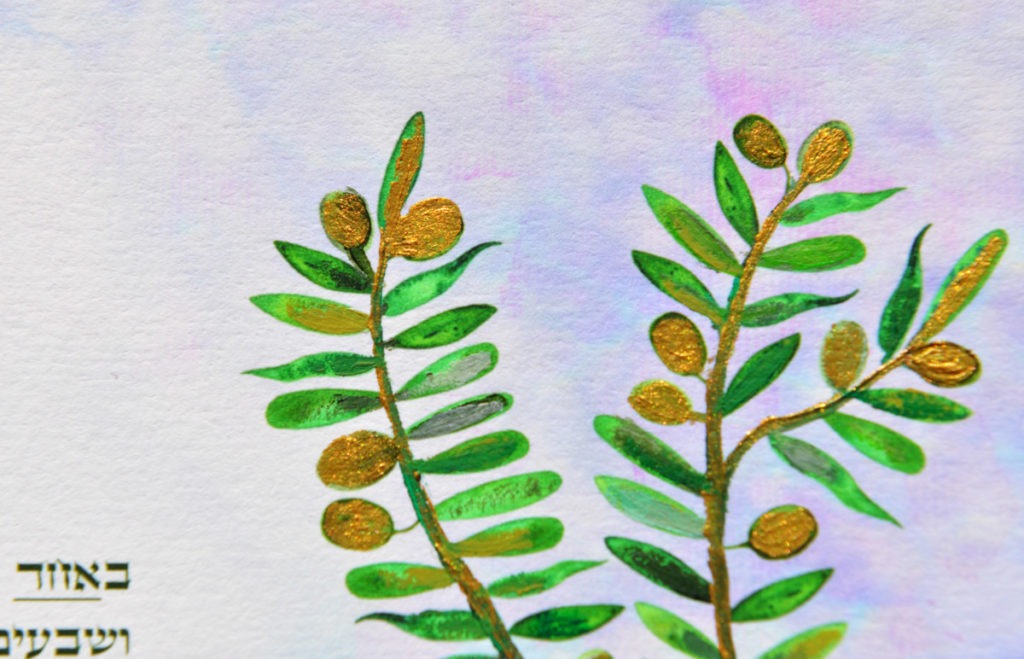 The olive branches the doves carry, together with the olive trees bordering the Ketubah text as a signature motifs of the wedding resound the 'Hativkah' (hope) for Shalom and Peace to reign in Israel and the world.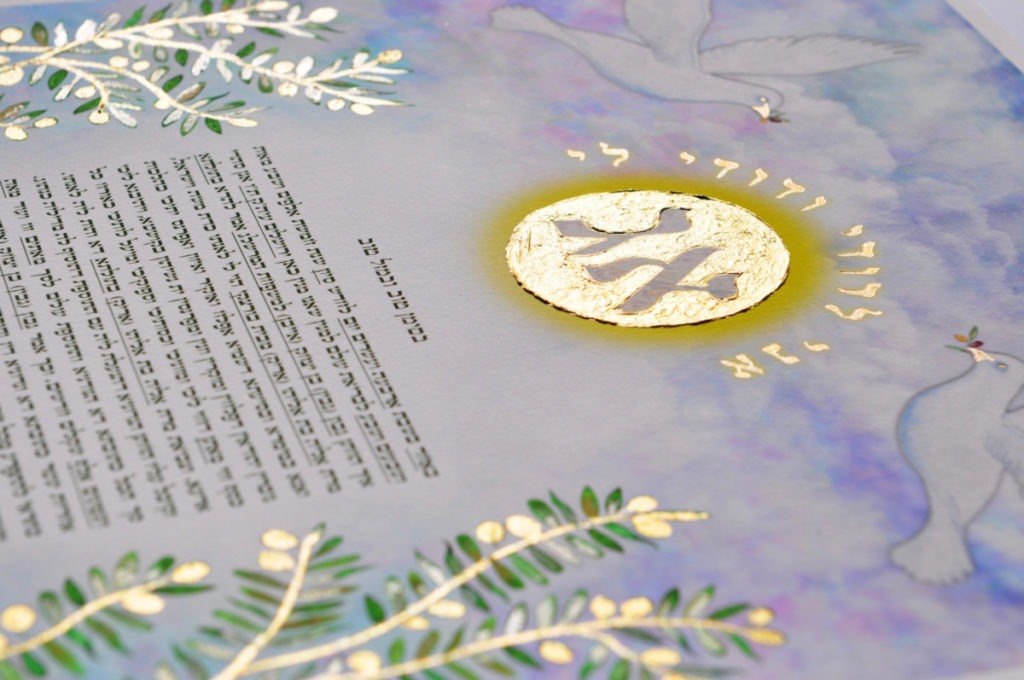 Within the sun, the initials of the couple are paired, and veiled with a soft lace and Jerusalem overlay.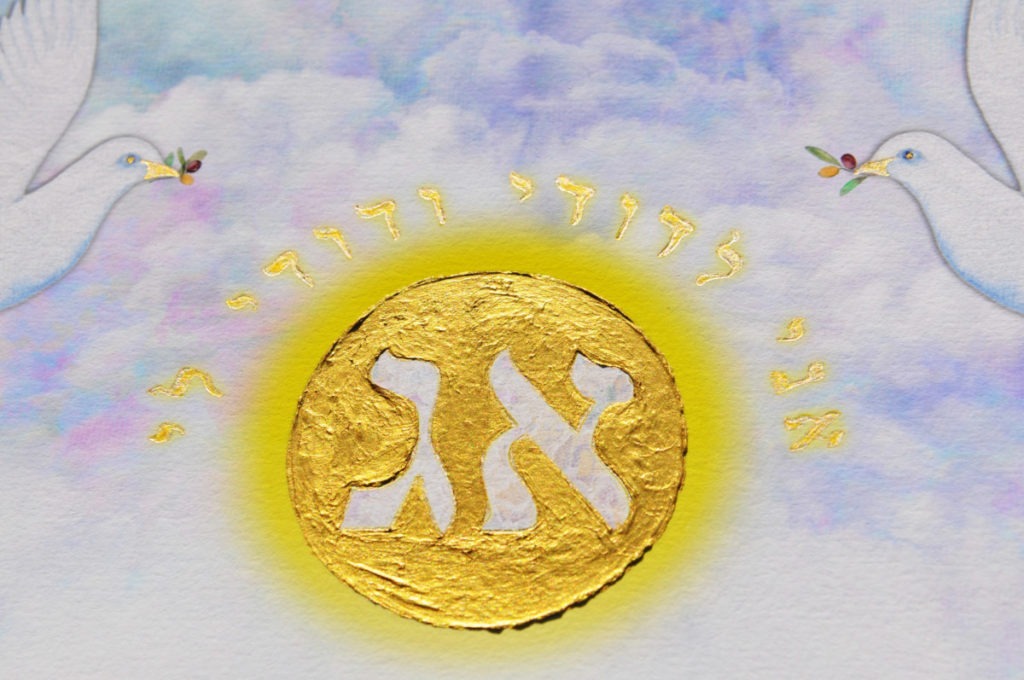 The sun is surrounded by the hymn "אני לדודי ודודי לי – I am my Beloved's and my Beloved is mine" (Song of Songs – Shir HaShirim 6:3), a romantic declaration written by King Solomon which expresses the affinity between husband and wife.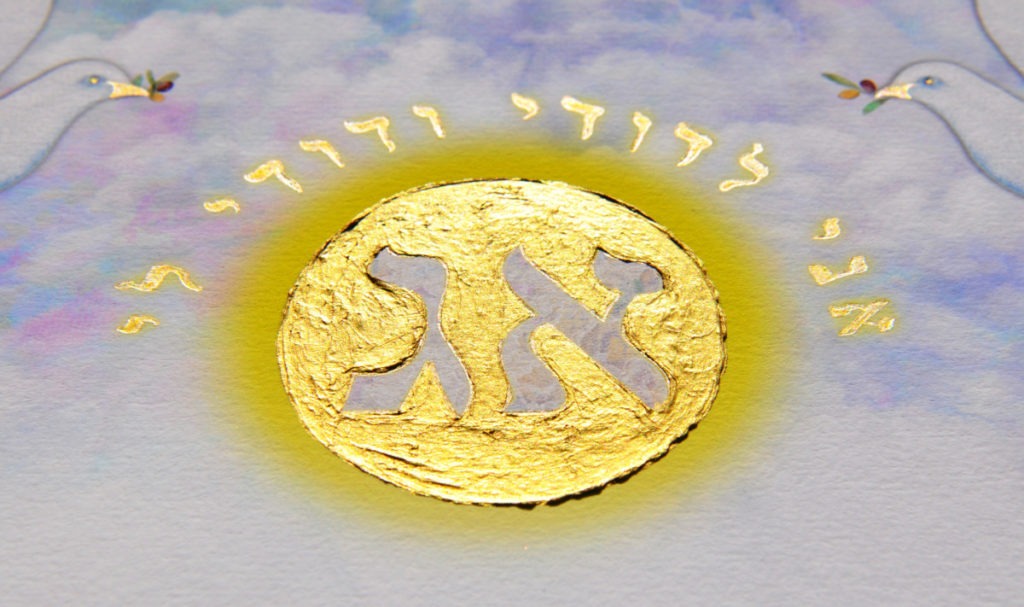 The placement of these elements here reflects the intrinsic commitment, care and responsibility mutually undertaken by husband and wife as central in their shared passage through the skies of life.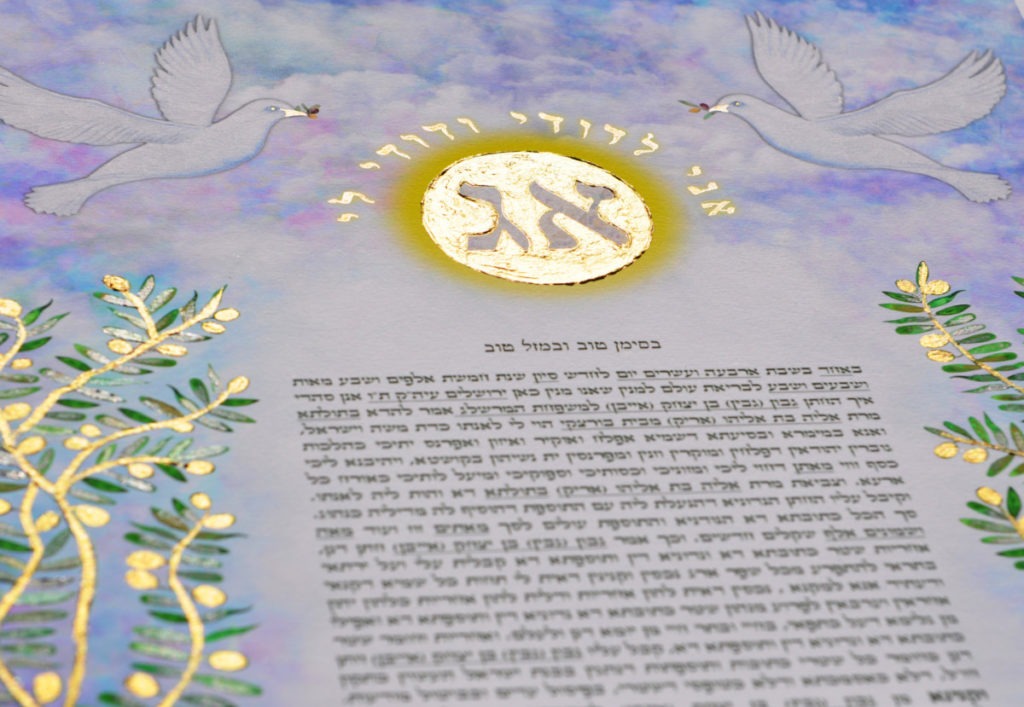 The doves and olive branches together echo a symphony for the desire and dream for peace and harmony to reign upon both Israel and the world, in our lives and for every generation flowing forward.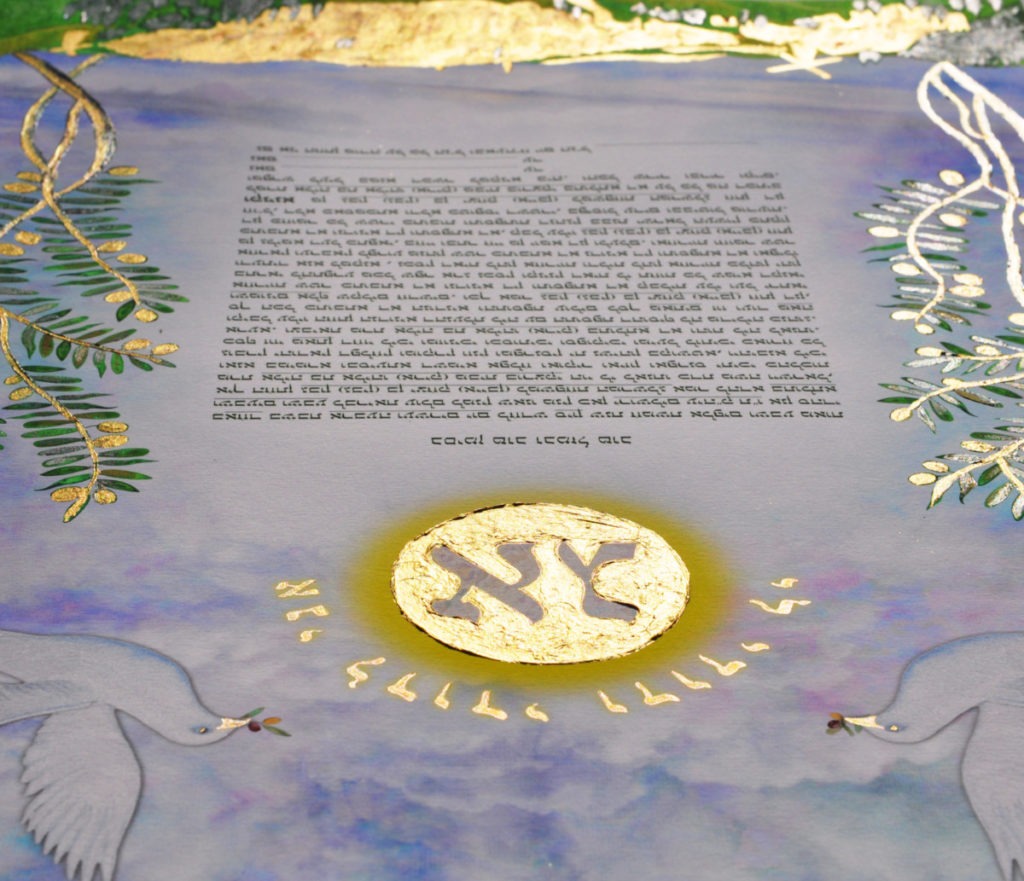 "The hope of 2000 years: To live as a free people in our own land, the land of Zion and Jerusalem."
– 'Ha Tikvah – The Hope' – Israels National Anthem