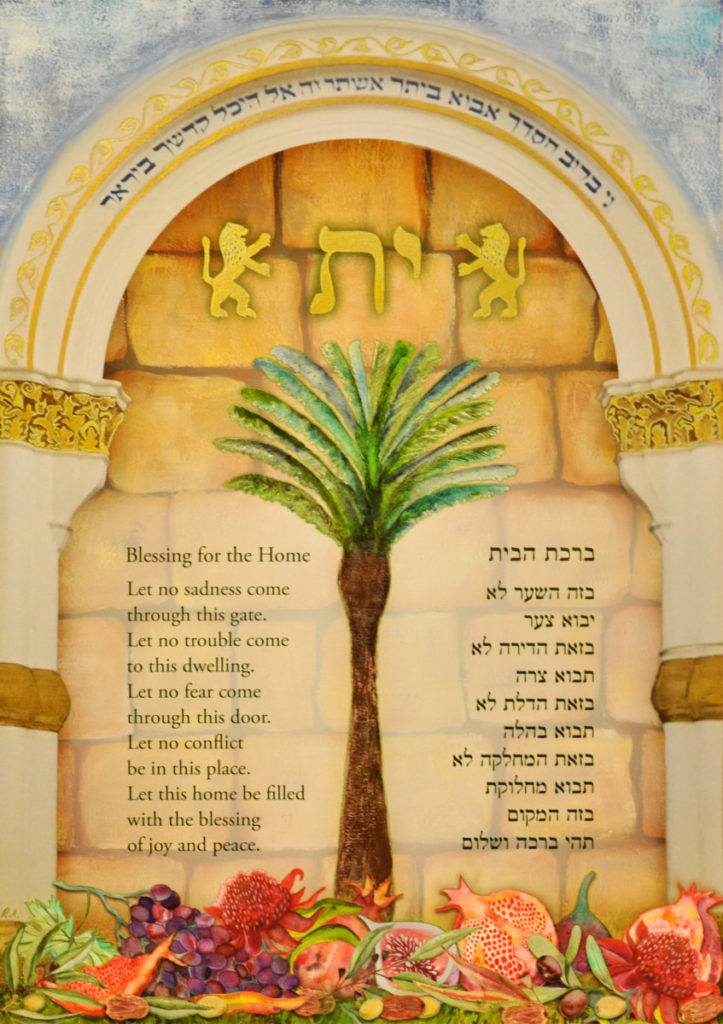 The artwork of this Birkat Habayit (commissioned as a wedding gift by a family member) is layered in idiosyncratic meaning, metaphors and symbiology, allowing it to intimately connect with and reflect the couple through expressing aspects of their Jewish, Israeli and Australian identities.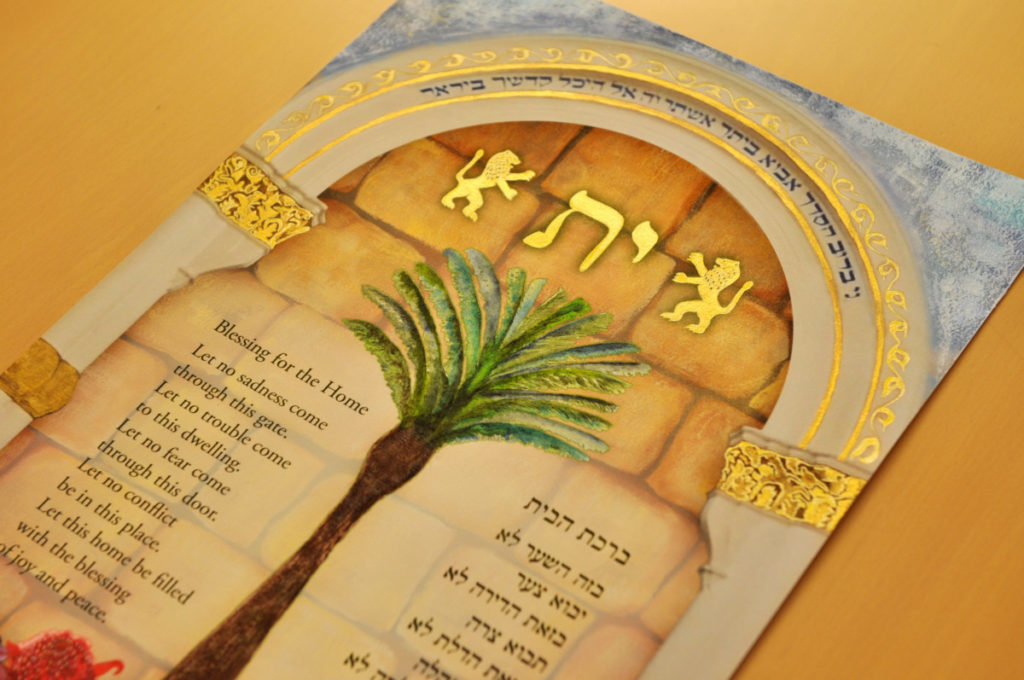 Here, the brides name Tamara translates from Hebrew as date palm, and therefore a date palm tree emerges into and as the centerpiece of the composition, whilst also functioning to divide the English and Hebrew textual elements. A homage to Tamara's Hebrew name is also iterated through the dates that are scattered through out the water colour painted still life composition occupying the floor of the artwork.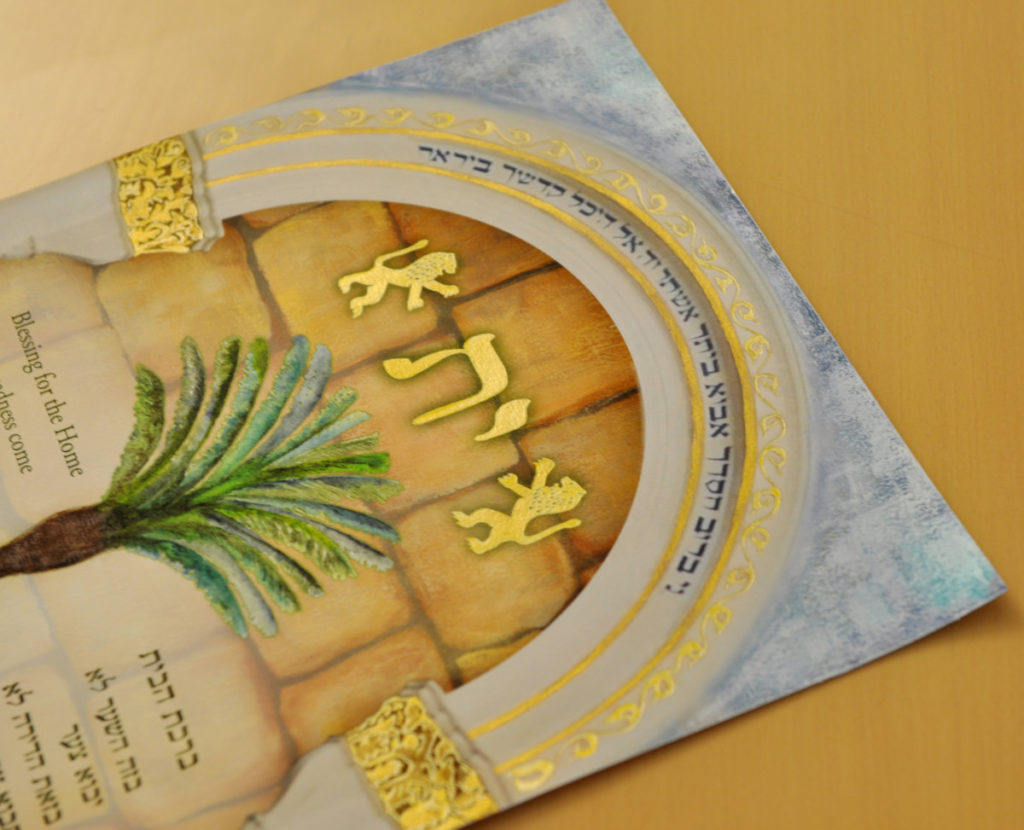 Honouring the grooms name; Yehuda (translating as Jerusalem), lions which are the emblem of the city are painted in metallic gold and face inwards to enclose the initials that float in the upper dome of the composition. The background of the kotel, the vestige of the holy temple and the most sacred site in the Jewish world sits behind the art work as another echo of Jerusalem – the holy eternal city.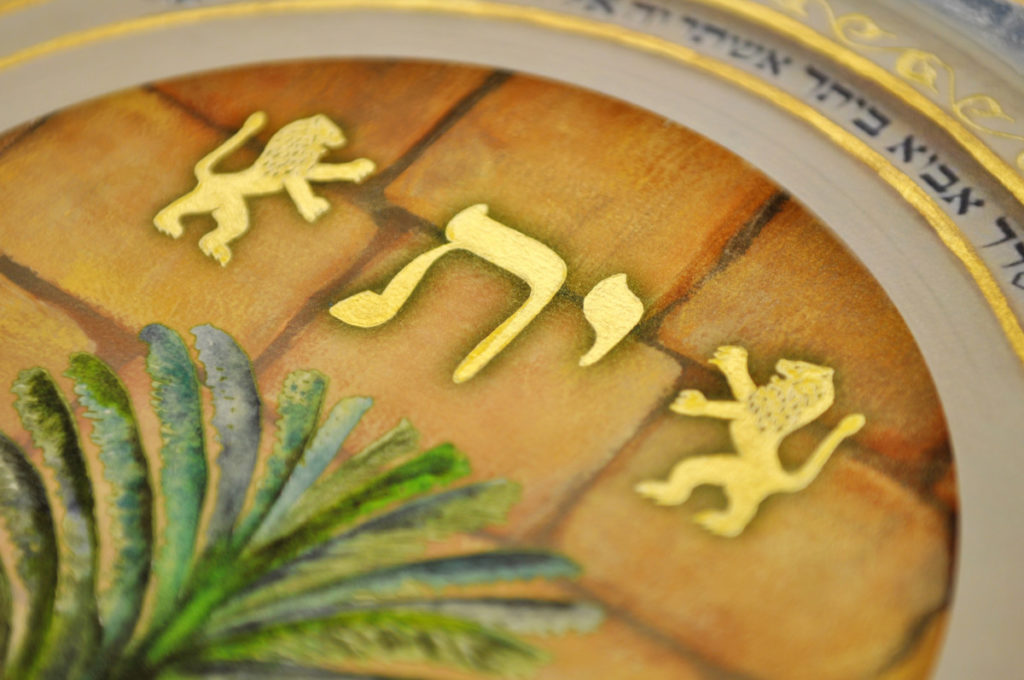 This artwork is also intended to marry the couples' Australian and Israeli heritages into one harmonious synergy (analogous to the wedding itself). Therefore the water colour painted still life at the bottom invites eucalyptus leaves and gum nuts together with Warratahs to represent Australia – paired with a cohered, colour palette assortment of the species of Israel mentioned in the bible: figs, pomegranates, olives, grapes and of course dates.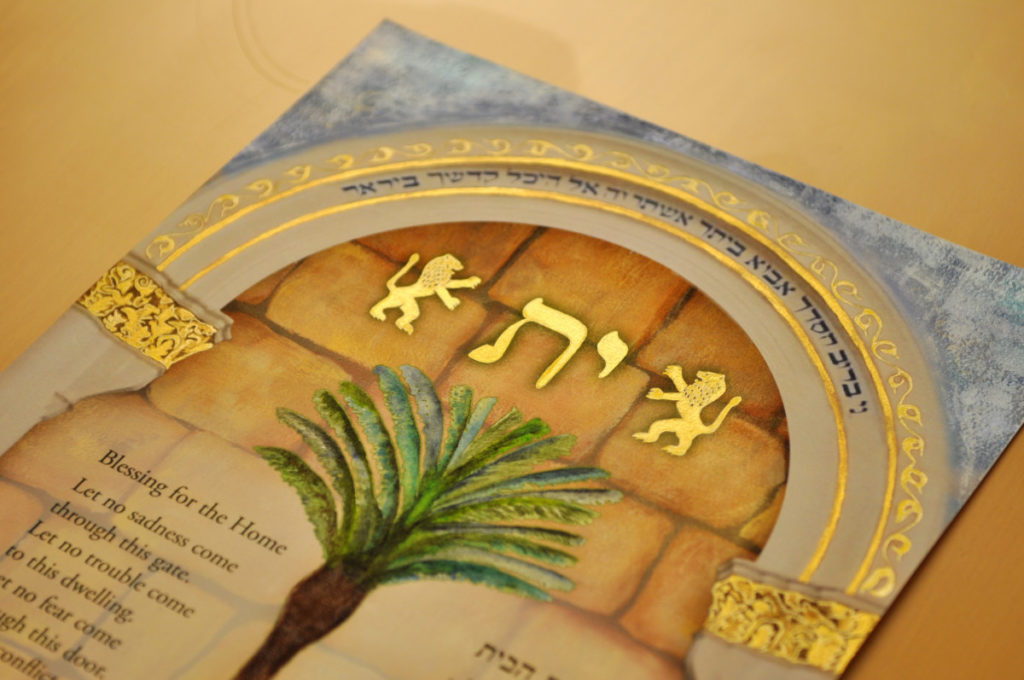 The ornamental architectural décor that characterizes the architectural frame which borders the composition celebrates Jerusalem's magnificent opulence, the intricate ornamentation of the city's design aesthetic and timeless antiquity. This has been further expressed through metallic rendering of the intials in gold iridescdenance and gold pigment accents that reflect and radiate fire in the light.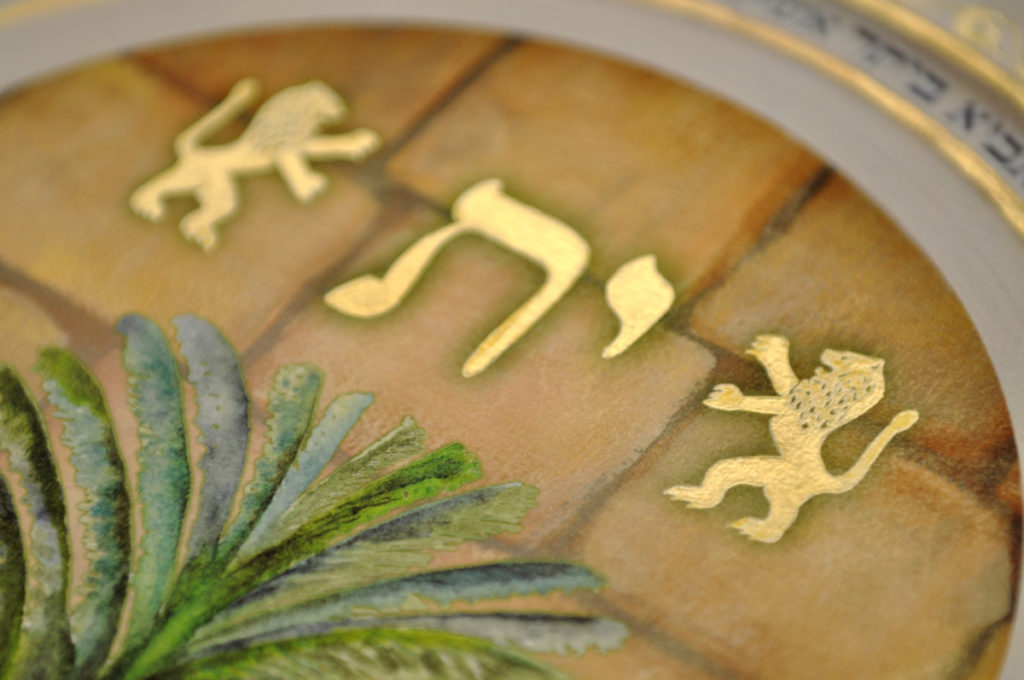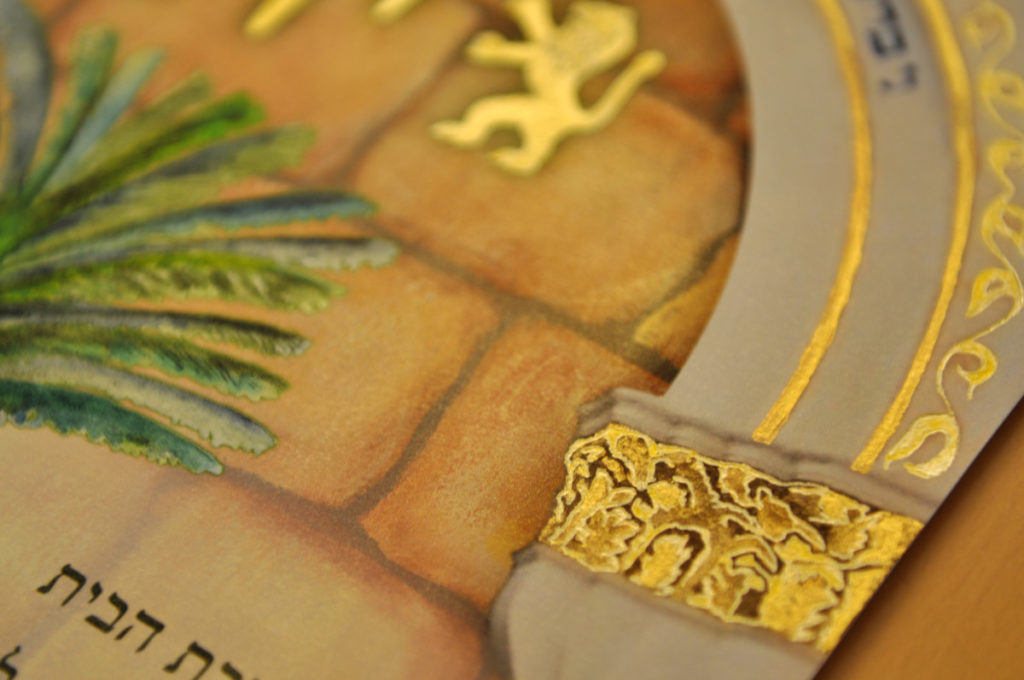 The extensive use of gold throughout the artwork, together with the dusting of gold that suits aboue the artwork all allow the work to summon the quality of 'Yerushalim Shal Zahav', the sparking city of gold.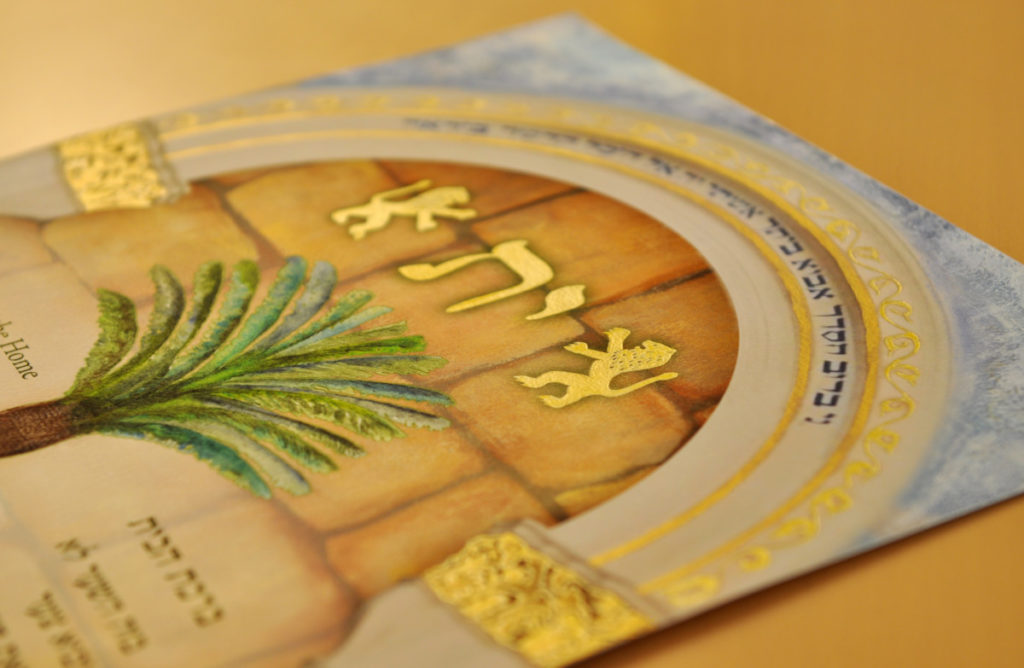 Wispy soft layered clouds in the upper belt of the artwork reside in the sky to embrace wonderful and wider permeations of nature and the universe into the composition.