This Ketubah is a love song to places nourished in significance, sentimentality and meaning to the couple – a merging of motifs from Sydney and Cape Town.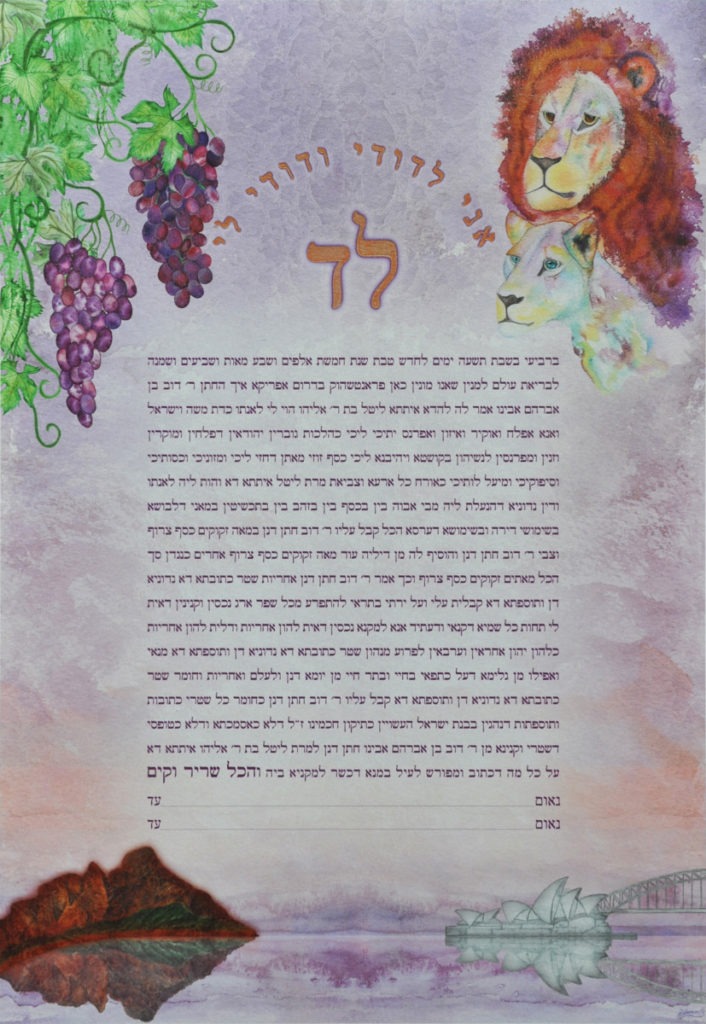 Beneath the text spans a panoramic vista, which is mirrored on the water beneath – 'reflecting' the centrality of water and the ocean to the setting of this love story.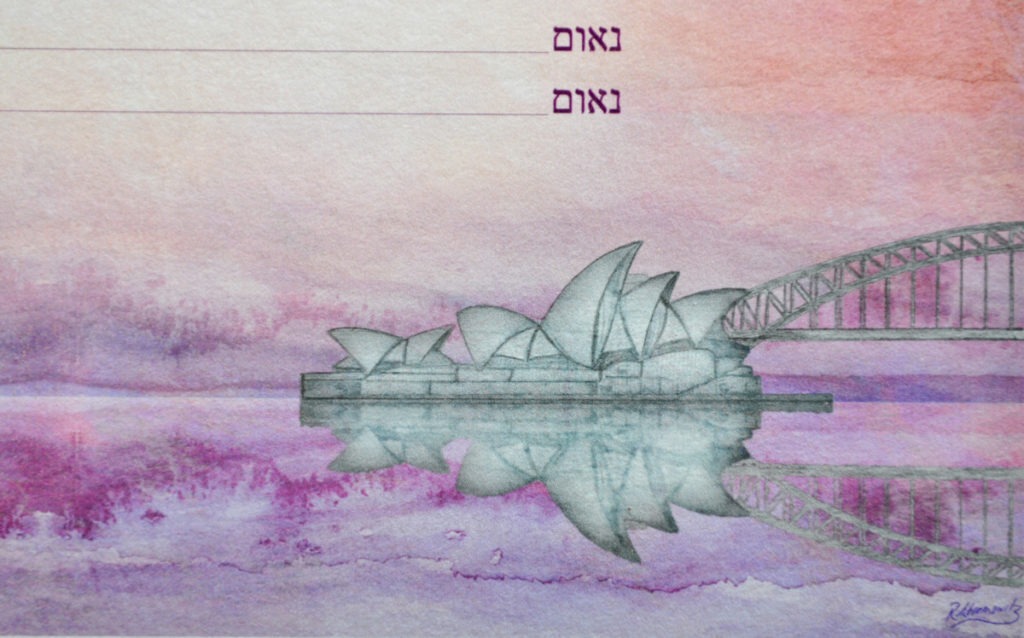 To the right, the Opera House and Harbour Bridge represent Sydney, the home of  the couple-  where they fell in love and where they will build a home.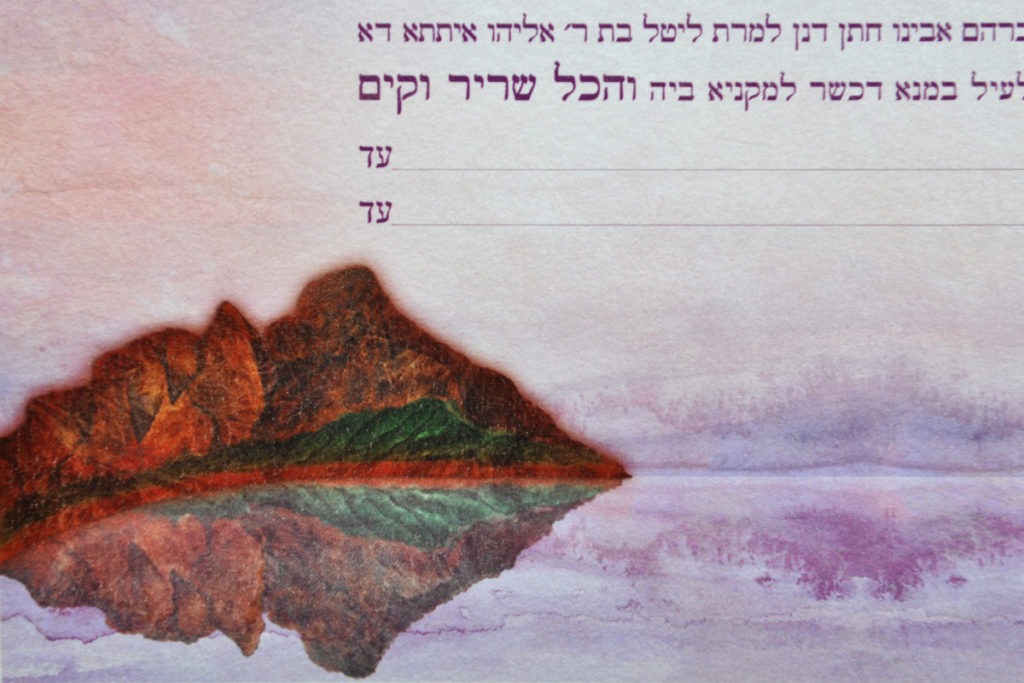 On the left is the glowing silhouette of Boschendal Estate (the location of the wedding).  These two places seamlessly transition into each other during a warm summer sunset, soaked in serenity and where the horizon line of the water, which like their love – flows and floats into eternity.
Above the Boschendal mountain range in the top left corner is an intricate network of grapevine greenery – featuring draping vines and unfurling ferns.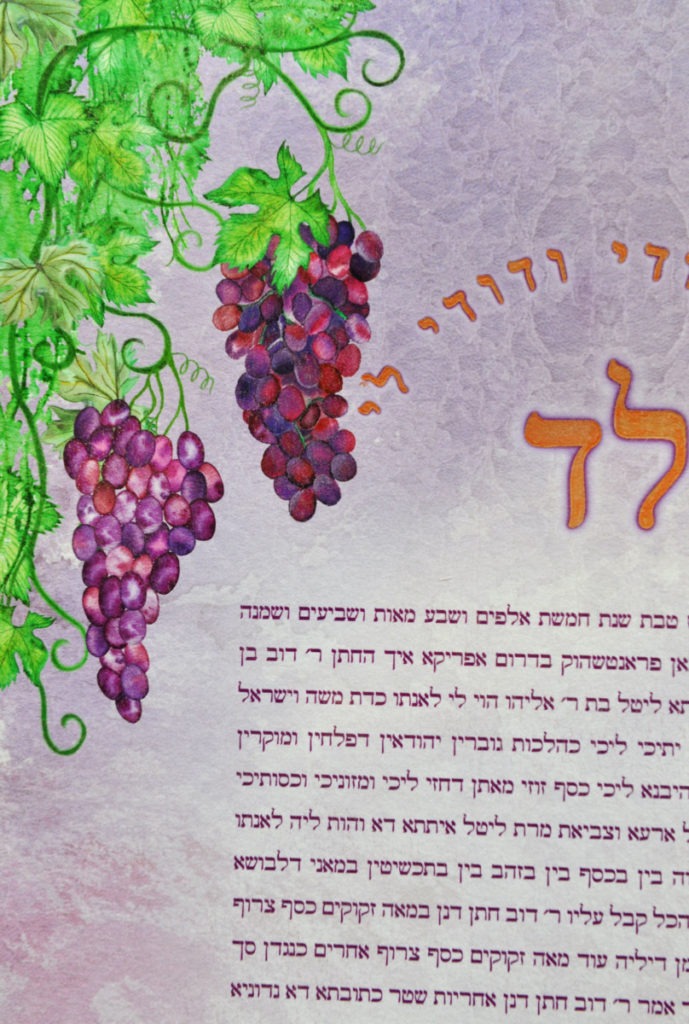 Suspended from this lattice are a pair of grape bunches – expressing the two souls of the couple residing peacefully. Furthermore the grapes here are an iterative signifier of the Boschendal Estate vineyard.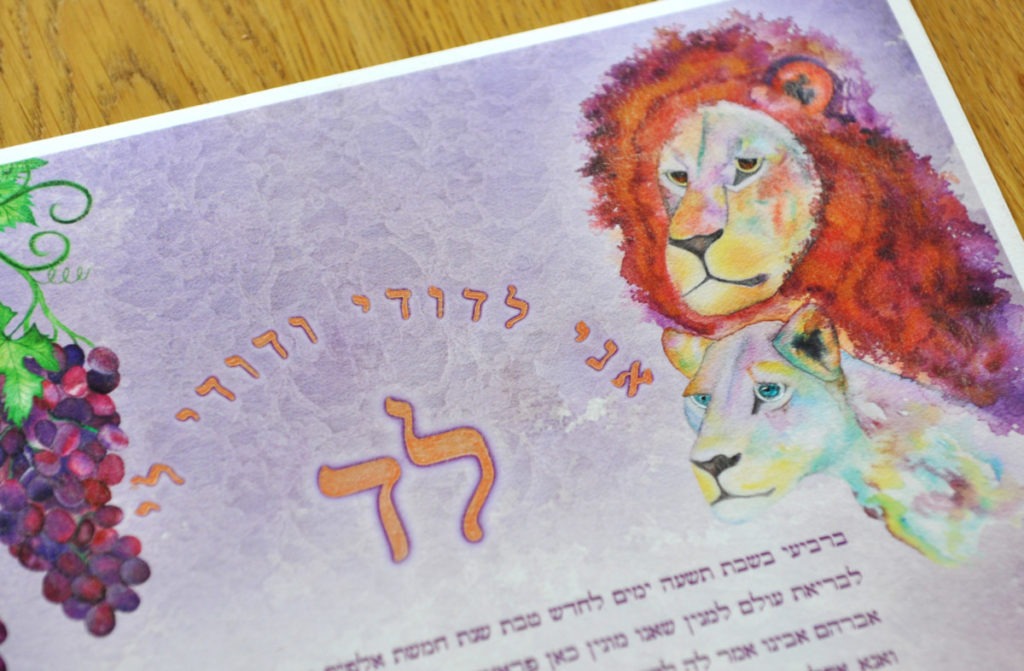 To the left floats a majestic lion and lioness, who confidently gaze into a space beyond the canvas (possibly the future). From their iridescent illuminated eyes, they see the future Pride and the home they will nurture through their union.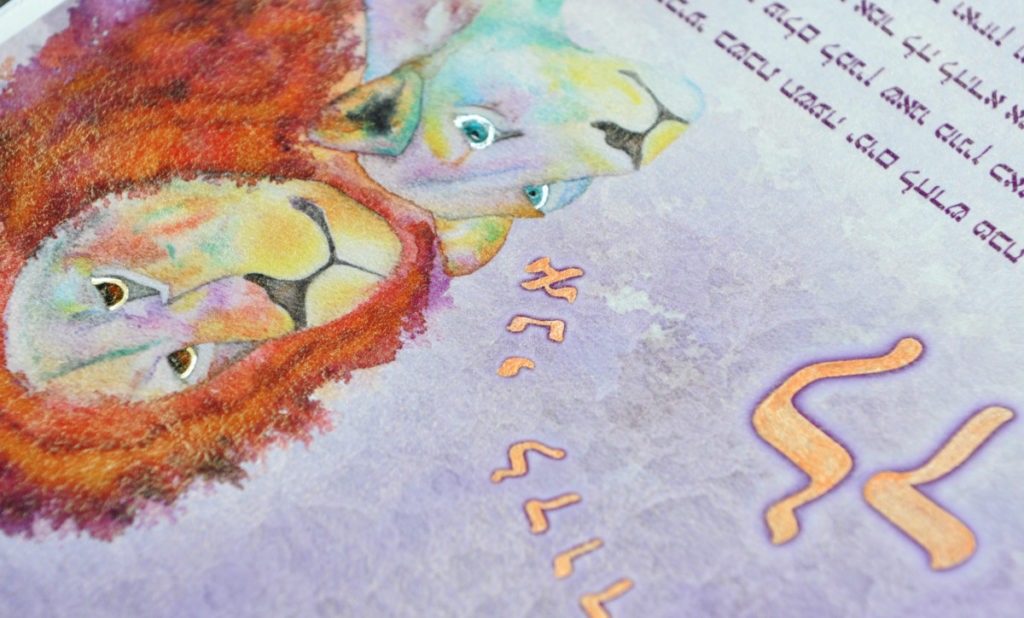 Lions and lionesses are chief symbols of the African land, embracing power and prowess, and evoking them here in this composition articulates the importance of South Africa to the couple's shared heritage.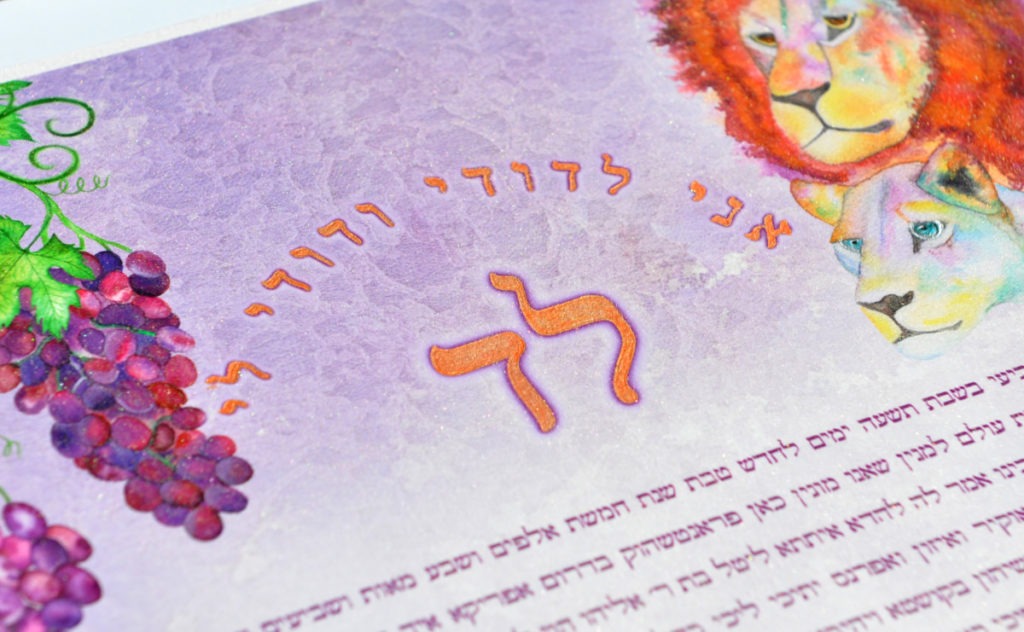 Painted in rose gold, the hymn ""אני לדודי ודודי לי – I am my Beloved's and my Beloved is mine" (Song of Songs – Shir HaShirim 6:3), a romantic declaration written by King Solomon to express the affinity between husband and wife, wraps around the couples' initials to create a dome. This psalm evokes the intrinsic commitment, care and responsibility mutually undertaken by husband and wife in their journey through life's waters.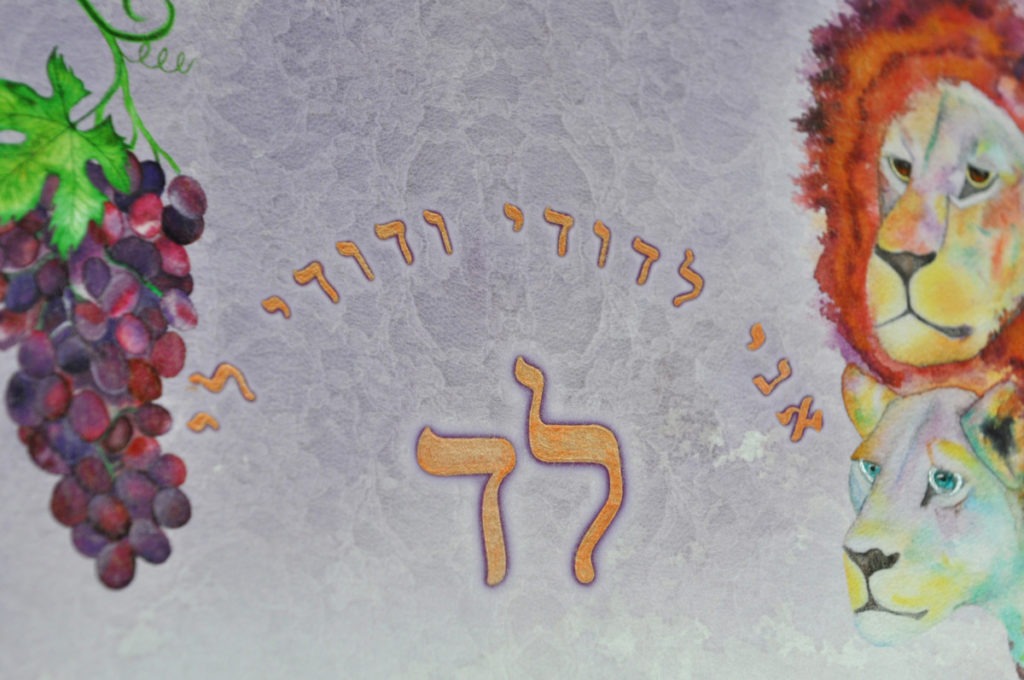 As a bespoke document honouring the embrace of marriage, this Ketubah harnesses watercolour washed layers overlaid with bridal lace which together expand over its surface like a gentle veil.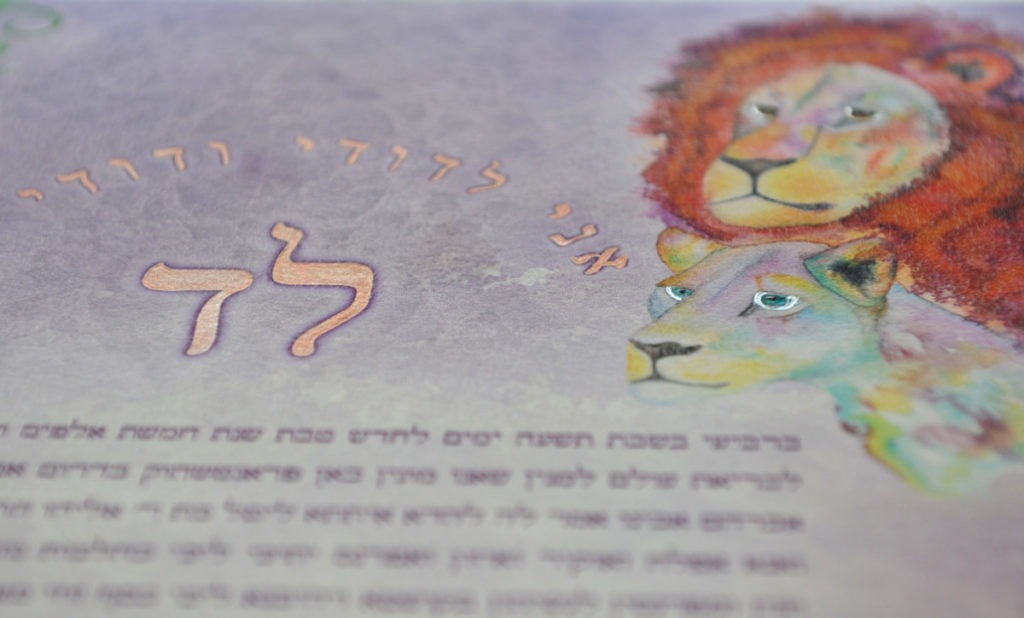 Therefore, through all these elements described above in the composition, the Ketubah aesthetically and thematically shares a strong harmony with wedding ceremony and location, as well as the heritages and harbours of both bride and groom – creating a special intrinsic connection between the past and the present as the couple passage into forever.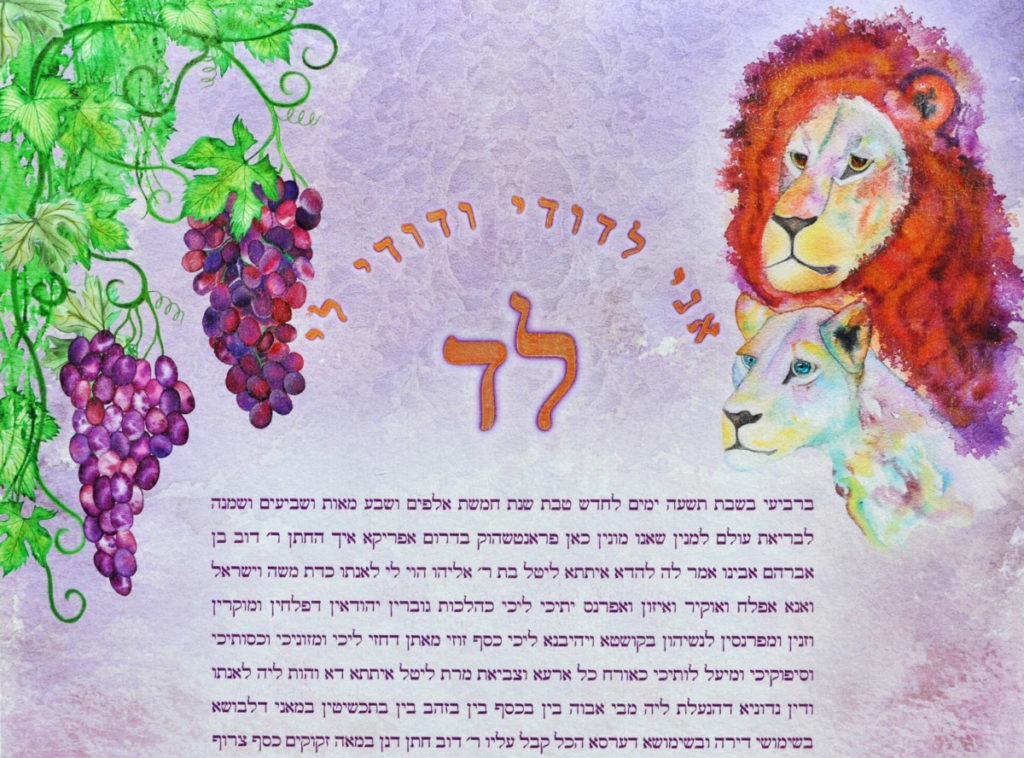 These elements are painted in a pearlescent rose gold which together with the metallic powder that is dusted on the Ketubahs surface – softly shimmer and sparkle.